Beyond The Valley of the Dolls - VHS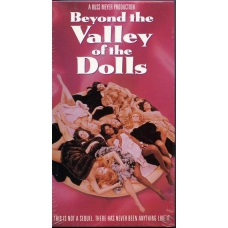 Product Code:
VHS
Reward Points:
0
Availability:
In Stock
Price: $39.95
Ex Tax: $39.95
Autographed VHS Signed by Russ
In Russ Meyer's BEYOND THE VALLEY OF THE DOLLS, all-girl rock band the Kelly Affair moves to Los Angeles in pursuit of fame and fortune. Upon meeting wealthy rock scenester Ronnie "Z-Man" Barzell (John Lazar) at one of his lavish parties, they believe they've met the man who can bring them fame. Changing their name to the Carrie Nations, they navigate their way through a maze of sexual misadventures, drugs, and brushes with some very unpleasant characters only to find that fame comes at a price. Livening up the considerably frantic proceedings are Meyer starlets Edy Williams and Erica Gavin (VIXEN), as well as an appearance by the Strawberry Alarm Clock. Finally invited to work within a major studio (20th Century Fox) following the enormous success of 1968's VIXEN, Meyer, along with screenwriter Roger Ebert, created the ultimate sex, drugs, and rock & roll film of the psychedelic era.
An altogether odd mixture of comedy, drama, and left-field shocks punctuated with memorably wacky lines, BEYOND THE VALLEY OF THE DOLLS lets Meyer's reliably decadent formula mingle agreeably with the psychedelia of the time.
Write a review
Your Name:
Your Review:
Note: HTML is not translated!
Rating:
Bad
Good
Enter the code in the box below:
Welcome to RM Films International
The films of RUSS MEYER! Enjoy the unique, often imitated films showing the sexual freedoms of the 1960's, as only seen through the eyes of the one and only independent filmmaker, cult hero, and icon RUSS MEYER.
This is the official Russ Meyer Online Store.
RM Films International is owned by the Russ Meyer Charitable Trust.
Please feel free to contact us with questions. Payment may be made with credit cards but it will go through the PayPal site. You do not have to have a PayPal account to use your credit card.